---
Please make your own travel arrangements. Directions are available on the Amateur Open web site.
---
Please make your own accommodation arrangements. Local accommodation information is available on the Amateur Open web site.
---
Hey, we ARE the sponsors. Some of these self-sponsorships are finite in nature, such as entry fees and paint (even with a roster of 30, we'll only shoot 5 people worth of paint). Others, however, are variable in nature and therefore some limit must be placed on them. It's unreasonable to expect, for instance, that the uniform sponsor outfit 30 people. The limit, in these cases, has been set at a total of 7 players for a 5-man squad and 12 for 10-man. For this reason we are asking that if you will not be playing in the preliminary games, that you forgo these elements of the sponsorships and allow the actual combatants to take advantage of them (and show off our products in front of the cameras in the process).
Prospective sponsors please email the pigmeister with your support commitment to get your logo on the back of our jerseys (we're cheap - a couple of cases of paint will do)
---
Todd is supplying the team with embroidered Flying Pig patches.
---
Two types of shirts are being ordered, both with fully stitched art, not silkscreen:
The Combat jersey is a "mock turtleneck" with full size logo on front and member/sponsors on back - $35 or so. Pictures below are from last years' version, this year will be stitched, not silkscreen. Other art upgrades and corrections are also being made this year (like Flying Pigs over the logo, not under, and better colors and art)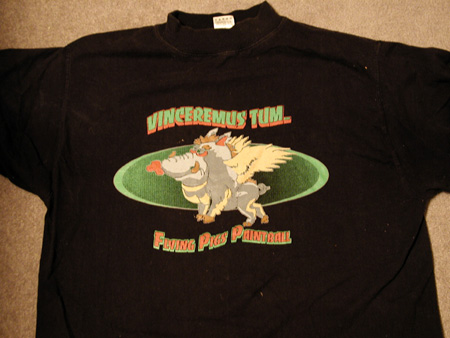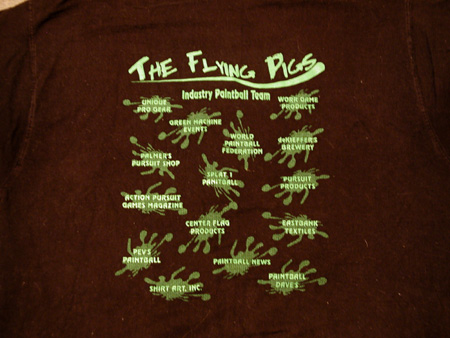 The "dress shirt" is a short sleeved golf shirt design with Flying Pig logo stitched on left breast (like the patch, in a circle with borders and text) - $20 or so. Click on the link to the manufacturer's web site for the general style being ordered.
Due to expense, we're not just "buying 50" like last year. Please email the pigmeister with style, size and number by Wednesday July 18 to get your order in. Battle jersey is black (except for Blue Hanse of course, who's getting royal blue) and golf shirt is forest green (again, except for Blue).
---
Due to some SERIOUS cancellations this year we cannot count on enough players to field a 10-man team. The 'Pigs will be foraging out in a trimmed-down 5-man squad instead (hey, that's just less ways to divide the beer from the beer sponsor anyway!!). Games are Thursday and Friday instead of Saturday and Sunday. Also, due to our widely acknowledged advanced average age, the tournament promoter has graciously booked us for the AFTERNOON session on Thursday, allowing us sufficient time to drag our fragile bones out of bed.
---